The patented Pioneer Cyclonic Blow-Off Nozzle is the heart of the automotive highliter delivery system. The highliter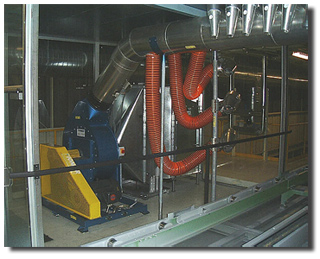 chemical is entrained in a controlled cyclone of air, applying a thin coating of chemical. Articulation of the nozzle (via hydraulic motor) allows a large area of coverage per nozzle. This articulation blends the spray pattern for ideal viewing conditions.

Pioneers' vehicle highliting systems are utilized usually by the automotive industry to detect dents and imperfections in the body metal. The Pioneer System incorporates our patented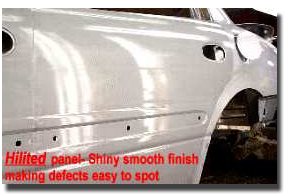 CYCLONIC NOZZLE and highliting chemical to create the ideal coating for the highliting operation. Pioneers' system is fully adjustable for different body profiles and easily accommodates "C-hook" and "clam shell" carriers. The articulated nozzles provide full body coverage with a minimum of chemical consumption.

This view shows a "body in white" on a C-hook carrier after the highliting process. Note the slick shiny hood surface perfect for viewing the surface for defects. Pioneer's nozzles effectively work around the carrier obstructions. Internal components are manufactured from corrosion resistant materials. The chemical may be water or oil based as per customer preference.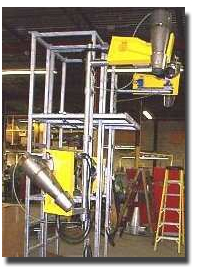 Pioneer's frames are constructed from hot dipped galvanized structural steel, or stainless steel tubing.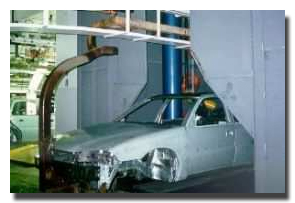 All articulation hardware is heavy duty and self lubricating. Standard OSHA type guarding surrounds all nozzle pivots. Solenoid controlled chemical injection system comes pre-wired with industry standard Brad Harrison type connectors or equivalent. All Pioneer Systems are custom designed and tailored to suit the body and carrier profiles and available space. Fully engineered drawings accompany each system for easy field installation. Pioneer supports each system with field adjustment and set-up personnel.

The Pioneer Automotive Highliter is a revolutionary departure from traditional methods that provides superior results! Reduce your defects and costs by installing a Pioneer Cyclonic body panel highlighter.


Robust construction, superior performance, and low maintenance makes
the Pioneer Automotive Highliter your best solution!
Let Pioneer Industries design a system for your body profiles and carrier design.