Pioneers involvement in the washing and drying industry has necessitated various new "wet line"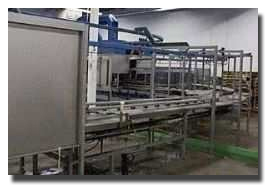 conveyor designs. We design and build custom conveying systems for all manner of different devices and parts. Our designs have hydraulic or electric drive systems depending upon the requirements, speed and loading. Pioneer has produced wet-line automobile/truck conveyors for over 30 years. Starting in the commercial car wash industry, our involvement in these conveyors has spread to the automotive plants for off-line wash facilities and on-line assembly line applications. Conveyor systems, although available separately, are usually supplied as part of a Pioneer vehicle washing System , box washer , laundry cart washer or other cleaning application.

Custom Systems Meet Your Requirements

Specialty conveyors are standard in all Pioneer systems. Although we suggest that systems be in a straight line we realize that plant layouts often dictate that a different path is required. Here a bin washing system incorporates a 90 deg. turn after the wash section. After this , the bins are conveyed to the Pioneer Cyclonic Blow-Off System and finally to a dehydration tunnel. Note the overhead and table height conveyors.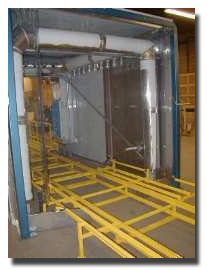 Below is a custom designed conveyor system which handles the removal of dust and particles from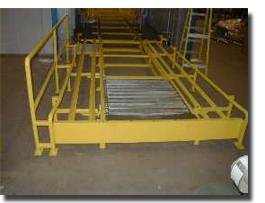 palletized supplies before they enter a controlled environment in another part of the warehouse. This conveyor system separates and helps maintain a clean environment while allowing quick, easy and clean access of necessary production supplies.
We can design a customised conveyor system that will meet all your special requirements, including available space, product specifics and electronic requirements.