During the manufacture of powdered pharmaceuticals the ingredients used become airborne and may attached to the employee's safety clothing; This is also true of any industry where airborne particulates present a significant threat so as to warrant safety clothing. Although the employee may be fully protected in disposable gowns, mash, etc or even a portable air supply, the transition from the work area to an outside environment requires a fail-safe procedure to contain any particulate resident on the disposable clothing. Through experiments it has been shown that misting water with a hand held atomizer on the clothing is superior to air lock blow-off systems typically used. Blowing at the clothing in an air lock system while dry and in a contained area, may or may not remove any particulate and may even redeposit any powdered materials or pathogens. With hand held water misting sprays, with or without a disinfectant, any particles will be contained on the protective clothing.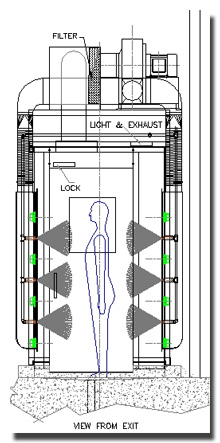 Problems With Hand Held Misting.

1. The hand held mist sprayers produced a very wet mist and in order to cover the whole person takes too long.
2. Hand Misting may soak certain areas causing the water droplets to run together and drip on the floor.
3. Personnel cannot be relied upon to completely mist everywhere on the protective suits
What this PMU provides is contained "Wet Atlantic fog or heavy dew" – water misted so fine that it remains airborne and becomes the environment, enveloping anybody standing within the enclosure. By standing with legs apart and arms raised away from their sides no area is left untouched. To produce nozzle flows this low, requires an extremely small orifice, which is then coupled with compressed air, boosting the pressure and atomizing the water. Flow rates through any low flow nozzle will typically quickly become blocked with very small partials resident in tap water; the plant water is therefore filtered down to 5 micron, a size not visible with the naked eye. "What if" concerns and the ever-growing list of labour and safety requirements; such as; How will someone react given that they are clothed in an enviro-suit and locked in a Stainless Steel enclosure, with limited visibility, due to a dense, water laden fog. A significant PMU design feature enables the occupant to have override control while still following the operational sequence.

Air blow-off chambers, as previously noted, do not ensure the containment of the airborne particulate and the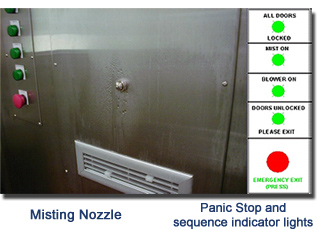 establishment of a routine whereby two people may mist each other using hand held sprays, while possible, is not practical. Contact with water mist prevents the migration of any powdered pathogens and in doing so, any airborne particulate is caught by the mist or remains deposited on the disposable one-piece suit, which is then discarded upon leaving the PMU area. The primary concern with any hand misting operation is that there is no guarantee that all places have or will be misted with water.