Traditionally blower performance and the related specifications, with ever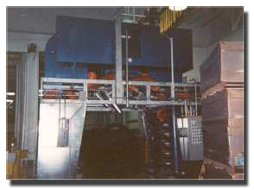 increasing air velocities, has been the focus for blow off system comparison. The higher velocities are presumed to translate into increased drying performance. However, as is evident when evaluating these systems on site, this is not always the case. To create high velocity air, high speed fans operating at 3,600 rpm are the usual choice. This selection in turn produces a high frequency whine and an overall increase in noise level. Although the fan specifications are important and air velocities are relevant, what is obviously more important is surface impact air velocity.

The "Performance Option"

All blower manufacturers' fans can be selected to conform to similar specifications. If the blower is then connected to a conventional blow off delivery system (combinations of knife or slotted nozzles) then the combination is limited by the characteristics of that blow off delivery system. This is where the Pioneer System is superior to the others.

Production line water blow off systems can be classified into two distinct and separate areas:

Blower Performance:

Pioneer manufactures its own fans and housings to guarantee the highest quality control and to allow for a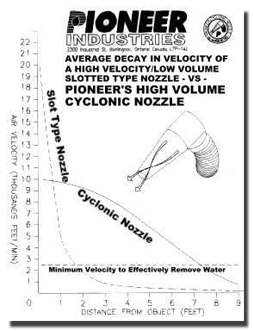 greater degree of custom mountings. The fan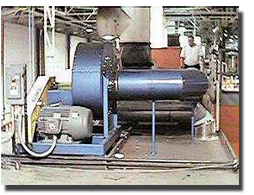 is built to meet and exceed automotive industry standards, incorporating 1750 rpm motors, 1/2 the speed of conventional systems. This reduced fan speed eliminates the whine, while the larger fan diameter and associated duct work reduces the overall noise levels. AMCA certification available.

Delivery System:

At the heart of the Pioneer Blow Off System is our unique patented cyclonic nozzle. This nozzle is capable of delivering air at higher velocities to any surface over much greater distances than conventional systems. By dividing the air flows into many separate air streams it becomes possible to be very selective as to the point of impact. This feature makes it possible to dry multi-faceted shapes. Pioneer Blow Off Systems are currently drying shapes as varied as automotive facia, steel office cabinets, full car and truck body shells and equipment as large as farm vehicles and railway locomotives.

The cyclonic blow off nozzle delivery system is used exclusively in all our patented cyclonic blow off systems.