Throughout the years there has been an ever-increasing demand for specialty cleaning. Pioneer has developed, many new and innovative ways of dealing with difficult cleaning and maintenance issues in industry, including auto body and parts carriers.

Now operations such as:

Removal of paint accumulation ("Corn Flakes") on critical carrier reference points.
Surface abrasion to highlight defects and/or prepare surfaces for coating.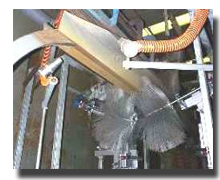 On-line, constant maintenance of carriers, bucks and fixtures.
Removal of welding slag or spatter.
Brushing castings of residual casting flash or mould sand.

These can all be addressed with an innovative Pioneer Cleaning System.

Here a Pioneer wire brush system is used to remove excess "E" coat from sensitive areas of this automotive body carrier. Note the abraded/clean areas contrast to the grey "E" coated areas. Pioneer silicon carbide impregnated nylon brushes with grits ranging from 50 - 600 have many applications and can be used to keep critical areas of body carriers clean, pre-treat a "body in white", remove galvanized defects, or pre-treat the "E" coat prior to paint. Combinations of different types of wire brushes can be used, from "zigzag" sections, tight dimensional brushes for tight areas and even "knot-wheel" brushes for really aggressive abrasion. A Pioneer Cyclonic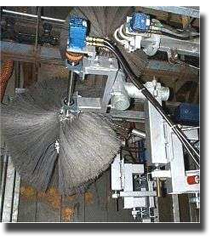 Blow-Off can be used to clear the work area of debris.

For surfaces where mechanical abrasion with wire bristles may mar the surface or where the material is too rubbery to be effectively removed, Pioneer uses nylon bristles impregnated with abrasive particles. These brushes come in varying densities and grit factors to suit any purpose. These versatile bristles have been used to lightly sand galvanized truck and car body
panels in Pioneer systems. The bristles automatically contour to every surface and profile to create a lightly scuffed surface that greatly enhances paint and coating adhesion, while at the same time removing "galvanizing imperfections" and high spots reducing paint defects. For heavy use a coarse grit brush can be used for aggressive action. Two grit types are available - aluminium oxide and silicon carbide impregnated throughout tough nylon filaments .

Specialty Conveyors Require Specialty Cleaning

Pioneer systems are custom made for each application, here another auto body carrier cleaning system was introduced to dramatically reduce the requirement to have carrier debris "burned off" thereby reducing harmful fume emissions and introducing a vast savings in lower equipment operation costs. This unit was suspended from building columns and roof supports. Pioneer designed the housing structure and provided all the skinning sheet metal, grating supports and maintenance access walkways. All brushes are mounted on completely adjustable arms to finely tailor brush contact points.

Complete System Design

Pioneer can fully engineer your system from the ground up. Including all structures, electrical controls and pumping systems. No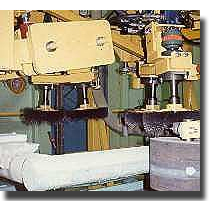 cleaning situation is alike in industry, every different problem requires a slightly different approach. Here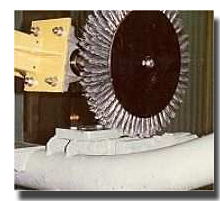 a Pioneer System is used with tight dimensional wire brushes and in the lower view, a tight "knot-Wheel" brush to effectively abrade and remove build-up on critical body location pins on an auto body carrier. A positive hydraulic drive provides ample rotational power and is easily varied for both speed and torque (providing automatic stall control). This gives an almost unlimited amount of adjustability unequalled by other drives such as electric. Pioneer manufactures hydraulic units specifically tailored to your system needs, complete with standardized components for easy repair.